I have this joystick for well over a year now and I'm ready to write a few words about it.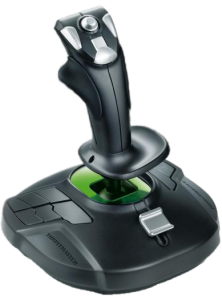 Model T.16000M was made by Thrustmaster in 2008. I've bought it for 164 PLN (≈ 51 USD ≈ 40 EUR). It features 4 axes (X, Y, rudder, throttle slider), 16 buttons (4 on stick and 8 on each side of the base) and a POV switch.
At first glance the big base stands out. It keeps the joy in one place, although with sharp movements I still manage to lift it. Placing second hand on the base (buttons) to hold it helps. I think there should be some kind of absorber for this.
Stick is a bit too big for my hand – if I put it on the hand rest then it's harder to access POV hat.
Joystick is ambidextrous. However, changing for the second hand requires screwing things so it's not suitable if you've got a left-handed sibling.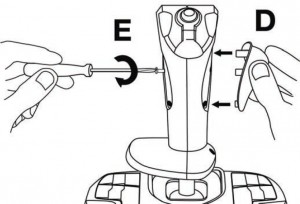 I like how the buttons are placed – in two rows. That way you can use them as a direction pad.
Lack of button labels is a big problem. I've used sticky numbers to fix that.
Much less confusing now. However, some games index buttons from zero and others from one.
I've done a  similar thing with the slider. Figuring out where is the center depends on your view angle.
I think there should be some kind of internal indication for this.
At a single time you can access 4 + 6 buttons. The rest is on the other side of the base and to use them you have to:
take hand off the stick which can be dangerous in the middle of a fire fight
or transfer second hand (cross arms) which isn't very comfortable
That's a compromise in making a joystick for left and right-handed people.
Dirt easily collects at the bottom of the stick.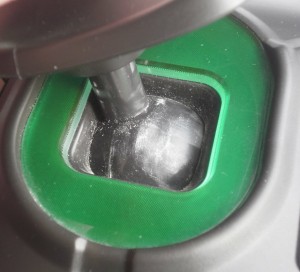 There's a reason why other joysticks have rubber covers.
The green part is a backlight which is lit whenever you move a stick (even very slightly). Shame that there's no option to disable this feature because the bright light becomes irritable when you're playing in a dark room. If you turn off computer while it's on – it will stay enabled.
Sensitivity
Main selling point is that X and Y axes have high resolution – around 16000 possible values for each. I can confirm that it is very precise and your movement in games is smooth. There is no deadzone and stick reacts to slight movements which is not always desirable but ultimately it's better to set a software deadzone rather than have a hardware one.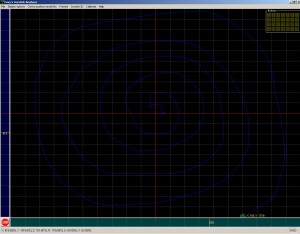 Other axes didn't get the same treatment and have "standard" sensitivity.
Wearing off
For the record: I was playing with joystick from time to time, not everyday.
At the beginning the stick was very stiff and it's usage was a test of endurance. After time the spring got loose and now it's much easier. The problem is that joystick wiggles and that makes it unusable in the center (see on the graph that stray in the middle). It also becomes harder to bring stick to the neutral position and make the light go away.
At first I was worried that slider would get too lose with time but that's not the case. Sure, it's lighten than before but it's still reliable.
Software
Device is supported by a program called T.A.R.G.E.T. downloadable from the Technical Support webpage.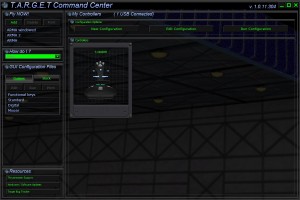 It features extensive configuration options. You're able to map axes and set their sensitivity.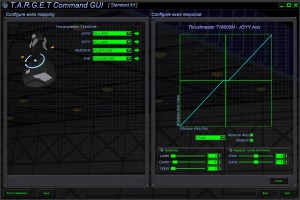 Further you can bind buttons to keyboard / mouse / DirectX game buttons and tweak their responsiveness.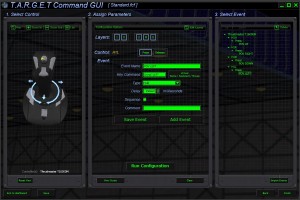 Saved configurations can be executed. Program disables your current device and creates a new one called Thrustmaster Combined which have all the properties you've selected in the configuration menu.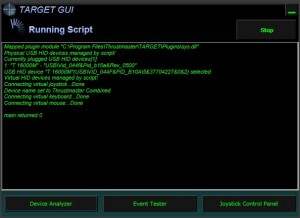 Device Analyzer allows to test settings.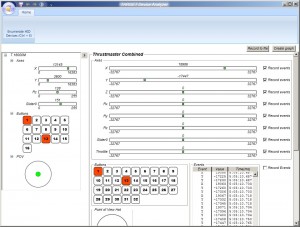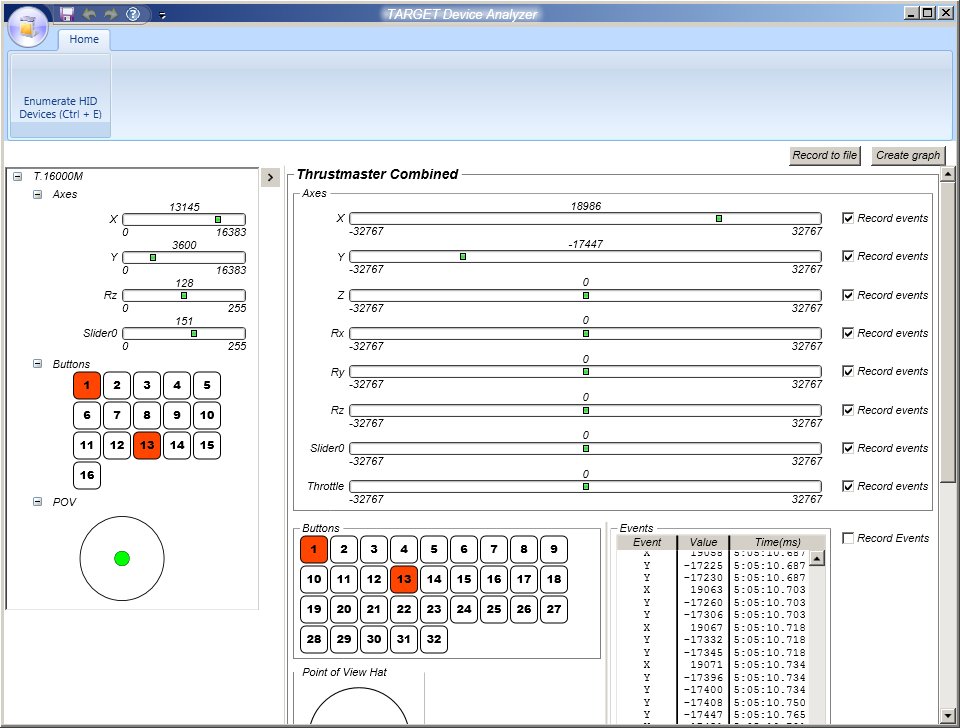 Alternatively you can write a custom script (programming language is described in the manual). I never got into that as there was no need.
TARGET GUI seems to be slow. In my case it takes 17 seconds from starting the program to having a configuration loaded. It's inconvenient to launch program (GUI or Script Editor) every time you want to play.
Here are some of my own settings:
Standard
Applies deadzone to all axes. Slider has a larger one – useful when flying with helicopter in ARMA. Download.
Functional Keys
Buttons are mapped to F13-F24. I use it sometimes for programming / testing. Download.
Digital
Very sensitive axis input. An experiment to check if analog joy can be used as a digital one. In practice it's not comfortable, better use buttons. Download.
Mouse
Proxy for a mouse. Buttons simulate mouse buttons and a few keyboard keys. Cursor position is absolute. Hard to use in the center of the screen due to a wobbly stick. Download.
Summary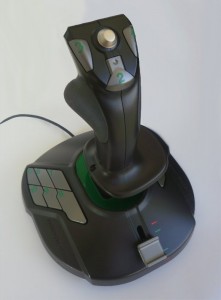 Despite flaws I consider T.16000M a fine mid-end controller.
In the future I'll write about general experience with joy in games.
---